Babies that swim
NEMO33 opens its doors to kids...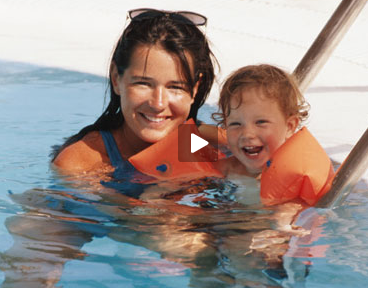 Advantages of NEMO33 :
- The water :   filtrated particularly well (measurements taken every 10 seconds and electronic corrections), drinkable, with very little chlorine, slightly mineralized, excellent for the skin, warmed at child-friendly temperatures (32-33°C).
-Its air :  filtrated continiously, with very light amount of chloramines, with less amount of fine particles than the air outside.
-Changing rooms :   tailored to mothers, with a folding changing table .
-Easy Access :   confortable parking area, 100 places.
-Restaurant & Bar :   inside of the complex of NEMO33, thaï food.   With a view to the inside of the pool.   Be our guest.
Principle of the training
A

ccompanied

by

at

least

one

parent

(

two

is even

better

!

)

, the

baby

will be

supported

by our

guide

with

the help

of

the

parent(s)

.
Baby training
Age :   3 months to  2,5 years
Duration :   20 minutes
Price :   One parent + baby :   25 € / session       Second parent : 5 €