THAï RESTAURANT at NEMO33 Brussels
Thaï Restaurant - Bar - Lunch - Dinner - Exotic Terrace - Clubhouse ... ! All at the same place in Brussels !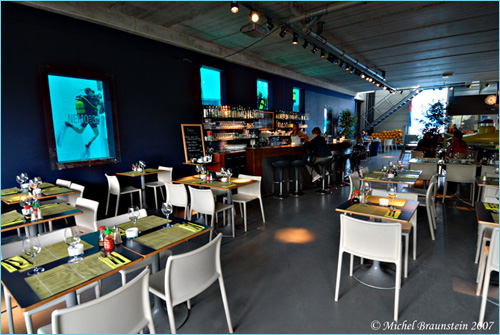 Our restaurant in Uccle ( Brussels) offers you asiatic (thaï) cuisine, rich in colors, and flavours that will make you travel and extend the Zen spirit you have already developed at NEMO33.

Through 7 giant windows you will be able to admire the diving mermaids while you enjoy your cocktail, or you can choose our bamboo terrace to try our tasty specialties.
What can you eat at the Thaï Restaurant of NEMO33 ?
Tasty thaï food.  From monday to friday at noon we prepare a varied lunch  (starter + main dish:  16,50€). To have a look at our complete menu, click on MENU.
Who can join the Thaï restaurant at NEMO33 Brussels ?
Our thai restaurant is open to everybody :  Divers AND non divers.
- For a business lunch, a dinner between friends, a birthday or a romantic dinner, a club meeting (we have special offers for groups, click : GROUP )
- To guarantee hygiene standards, domestic animals are not allowed inside the building or in the terrace.  No dogs, cats, lizards, snakes, hamsters ...
For RESERVATIONS call :   +32 (0)2 333 38 30  ( from 11:00 till 21:00)
Which services are available at the Thaï Restaurant of NEMO33 Brussels ?
- A private and confortable parking lot (approx. 100 parking places).
- WI-FI access for your work needs.
- Professional service by motivated young people.
- Very fresh products.
- Products of the best quality (coming from fair trade).
- A unique setting in the world with an underwater view of mermaids and divers.
- Non-stop kitchen during saturdays and sundays.
- Soon another room, more confortable and with a trendy and original atmosphere.
How can you pay at the Thaï Restaurant of NEMO33 Brussels ? >/h3>
Payments by VISA, MASTERCARD and BANCONTACT are encouraged and accepted without charge from 20€.
We do not accept "CHEQUE-REPAS" or "TICKET-RESTAURANT" as a valid monney.
When can you join the Thaï Restaurant at NEMO33 Brussels ?
The kitchen is open 365 days / year, including all belgian holidays :
Monday, Tuesday and Wednesday :  12:00 -14:30  and  19:00 to 22:30.
Thursday and Friday :   12:00 - 14:30  and  19:00 to 23:30.
Saturday, Sunday and Belgian Holidays :  Non Stop from 12:00 until 22:30.
Our BAR is open (Non stop) from 12:00 until 22:00 (some days later following customers thirst),  365 days/year.
MENU

RESTO THAILANDAIS NEMO33

Essayez le TAKE AWAY :  Tous nos plats sont à emporter !  Les prix des plats à emporter sont les mêmes qu'indiqués sur notre carte.
Toutes nos boissons sont aussi à emporter !  Dans ce cas, les boissons sont beaucoup moins chères que si elles étaient bues à NEMO33. Ainsi les vins à la bouteille sont vendus avec des réductions de 33%. Profitez-en !