UNDERWATER LABORATORY
Institutes of physiological and hyperbaric research, oceanographers or marine biologists, training for astronauts, cosmonauts, nuclear techniciens, NEMO33 offers you :
A world - unique pool-pit formed by :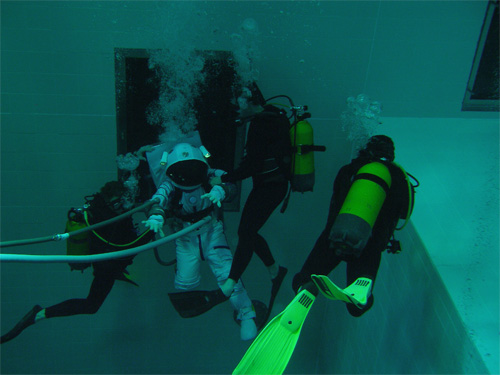 a pool section for beginners  (depth 1,3m : surface 20m x 4m)
a pool section for swimmers   (depth 2,5m : surface 20m x 5m)
a pool section for introductory dives   (depth 5m : surface 8m x 8m)
a pool section for dive students in training   (profondeur 10m : surface 6m x 6m)
a pool section for experienced divers   (depth 33m+ : surface 6,05m x 6,05m)
Great avantages for research matters :
If you are able to control the external factors as temperature, depth, timing, position, displacement, etc, you will be able to focus in the exact parameters that you are wishing to study or analyze.  The time that you will gain will be surprising.
Water :
Source quality water, computarized filtration, smell of chlore absent, 33°C from the top to the bottom.
Dive bells :
Three chambers and the posibility to place a total of 50 people - with air that is renewed constantly will allow an extended stay under the surface.
Scuba dive equipements :
From the hight quality brand Aqualung available next to the pool.  Air compressor for quick tank refills.
Underwater facilities :
Nearly 250 anchorage points distributed over the pool will facilitate the attachment of any instruments- supports can withstand loads of 250 kg to 10T - it is possible to test long-term pressure effects of air or water - changing rooms and warm showers - clubhouse and restaurant facilities - additional rooms of 40 to 180m² - confortable parking lot (100 places) and other 300 free places in nearby area - easy acces by the west ring of Brussels - posibility to train scuba diving in a fast way - possibilitiy of underwater supervision and general technique support.
References :
- NEMO33 is the laboratory for physiologic and hyperbaric research of the american association D.A.N. (Divers Alert Network).  Very interesting results on desaturation processes are being obteined regularily and divers from all around the world will benefit from those extraordinary advances.- NEMO33 allows to test instruments that must be isolated in confined spaces.  Once they start to be produced in nuclear plants there is not possibility that they can be taken into the exterior.  Thanks to the numerous windows at NEMO33 ingeniers are able to verify their work.- NEMO33 was used by Franco DRAGONE for practicing the first phases of his show LE REVE that is today succes in LAS VEGAS.