PROFESSIONALS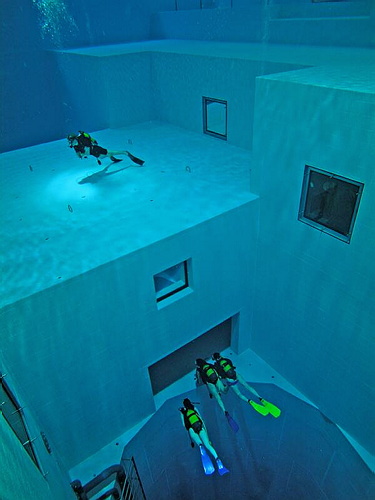 SPACE RESERVED TO PROFESSIONALS
The deepest pool in the world reserved exlusively for you !
2.500.000 litres of pure, transparent water,
constantly warmed to 33°C
5 depths :   1,30m - 2,5m - 5m - 10m - 33m
and three underwater caverns

Professionnal divers, scientists, fireman, police, army, spaceman, cosmonauts, film and cinema professionals, photographers, for advertising, films, short and feature film shooting, NEMO33 has been developed to help professionals, scientists and techicians of the underwater world :  you will be surprised of our flexibility.
Outside the pool, you will find the rooms (40m2, 180m2 et 233m2), where it is possible to install a studio, changing rooms, or even a laboratory.
Our instructors are available to help you or to teach you.
The bar/restaurant is open 365 days a year for the catering service of your team. A modern space is available to receive your clients.
Price of the pool rental - (TVA not included)

(Prices are negociables depending in our availabilities and the size of your event)

Low season

01/05 au 31/10

High season

01/11 au 30/04

Monday to friday - rental per hour between 8h and 17h, except between 12h30 to 13h30
500 €
600 €
Monday to friday - daily rental from 8h to 17h non stop
2.500 €
5.000 €
Monday to friday - daily rental from 8h to 12h and from 14h to 17h
2.000 €
3.500 €
Saturday or sunday - daily rental from 8h to 17h
7.000 €
12.000 €
Extra hour before 8h
300 €
300 €
Extra hour after 17h
800 €
1.000 €
HOW TO PROCEED ?
Send us an e-mail and we will answer all your questions :   event (at) nemo33.com
Contact us: + 32(0)2 333 38 35 to plan a meeting
Come and visit our spaces we are open 7j/7, from 12h00 during the week, and from 11h00 on the week-ends.
After a first contact and an evaluation of your needs, we will send you a proposal with a budget that will allow you to reserve your desired spaces.